JOB SEEKERS
Real-Time Job Matching technology automatically matches you with the jobs you qualify for based on your user profile and resume. Sign up today to see for yourself!
Submit your Resume
Receive Job Matches
Receive Job Alerts
EMPLOYER
With Real-Time Job Matching and Automated Posting Optimization you can have more pre-qualified applicants, maximum exposure saving you time and money.
Post Your Jobs
Receive Candidate Matches
Receive Candidate Alerts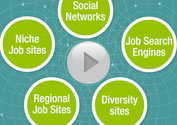 NRNJobPlate.com
is the foodservice recruitment site of the Penton Restaurant Group. The combined resources of
Nation's Restaurant News,
Restaurant Hospitality
and
Food Management
offer the most robust and targeted collection of hospitality jobs and candidates in all areas of foodservice.
For decades our brands have been connecting employers with ideal candidates to fill high value positions—and that has continued with NRNJobPlate.com. Find out how the power of the Penton Restaurant Group and NRNJobPlate.com can solve all of your recruitment needs.